Jodi Murphy 2-Book Bundle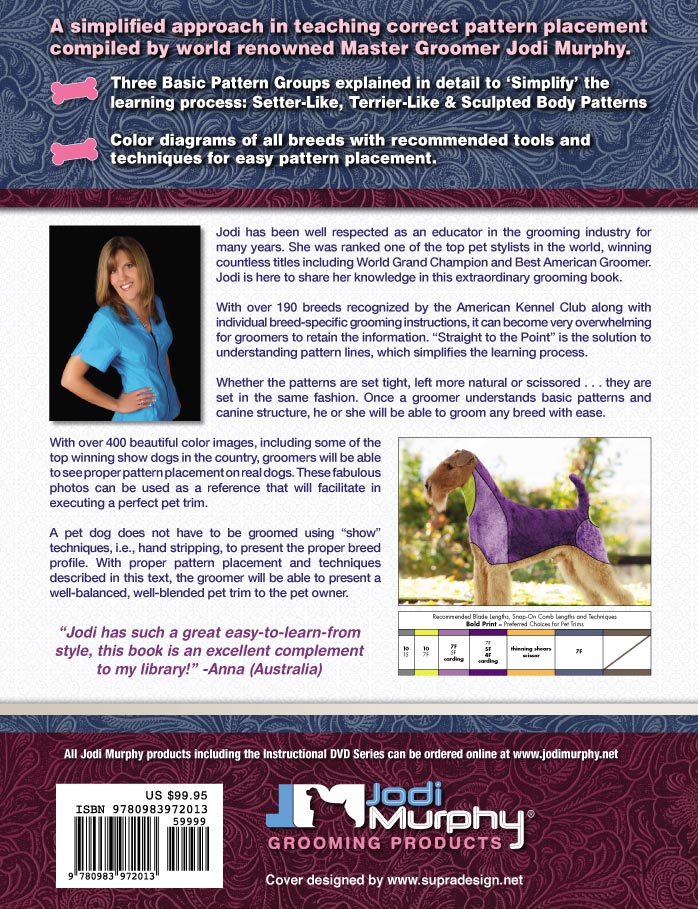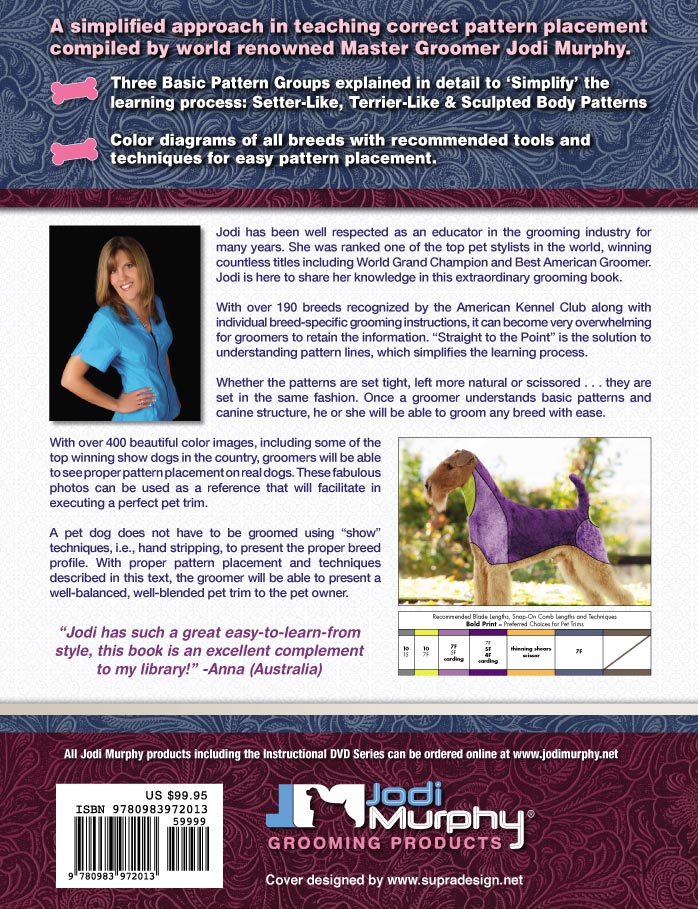 Jodi Murphy 2-Book Bundle
Save when buying both of Jodi's books!
You'll get the award winning Dog Grooming Simplified and Mobile Pet Grooming
Dog Grooming Simplified: Straight to the Point
Barkleigh + Honors awarded Book of the Year!
Jodi Murphy has just authored a Grooming Book that is ground breaking! What better way to understand correct pattern placement than by the use of real photos of real dogs! Not only does Jodi use real photos but the dogs that are featured are some of the top winning show dogs in the USA including "Sky", the Wire Fox Terrier, Best In Show winner at the Westminster Kennel Club Dog Show in 2014!
"Educating groomers has been my passion for many years. My Instructional DVD Series has helped so many people learn to groom as well as improve their techniques. Dog Grooming Simplified: Straight to the Point was written to complement my DVD series. The information contained in this text along with my DVDs is a wealth of knowledge."
With over 190 breeds recognized by the American Kennel Club along with individual breed-specific grooming instructions, it can become very overwhelming for new groomers to retain the information. "Dog Grooming Simplified" is the solution to learning about pattern lines, which simplifies the learning process. Whether the patterns are set tight or left more natural…..the patterns are set in the same fashion. Once a groomer understands basic patterns he or she will be able to groom any breed with ease.

With proper pattern placement and techniques described in this text, the groomer will be able to present a well-balanced, well-blended pet trim to the pet owner. The content described is based on Jodi's opinion, interpretation of the breed standard and the techniques that she has acquired and developed over the years.

With over 400 real life full color photos, taken by one of the top dog show photographers in the country, this first-of-its-kind grooming book is sure to be one of the most sought after reference manuals on the market.

Jodi has created a unique color overlay of every breed with a color chart which show recommended blade lengths, snap-on comb lengths and techniques for every breed.
Total pages: 496.  Full Color – Spiral Bound – 10 x 11″
Mobile Pet Grooming
The Most Comprehensive Guide to Starting and Maintaining a Successful Business
Jodi Murphy is recognized as one of our industry's leaders. She is a speaker, contest judge and demonstrator, traveling nationally and internationally sharing her knowledge and skills. Jodi has been a mobile groomer since 1997 and brings a wealth of knowledge to this industry. She was awarded Mobile Groomer of the Year by Cardinal Crystal Achievement Awards in 2012.
Jodi has given countless seminars on mobile grooming throughout the United States and has now put all her knowledge and experience in this most complete book "Mobile Pet Grooming". This book covers all aspects of starting and maintaining a successful business. Jodi will discuss everything from selecting the right vehicle to sharing tips which will improve your grooming skills.
Over the past 15 years, Jodi has started and successfully operated three mobile grooming businesses in three totally different sections of the US - the south, the mid-west and now the northeast. After just a few months of starting up each business, she was unable to take on new clients and has had long waiting lists, thus allowing her to pick and choose her clients.
You will "ride along" and learn from her experiences over the years - the good and bad - that have made her into the accomplished groomer she is today. The information contained in this book is priceless. If you are mobile, thinking of going mobile, or even a shop owner, this is the book for you. Don't go mobile without it!
Some of the topics discussed in this book:
Grooming tips and techniques

Grooming styles for every season

Capitalizing on your clientele

Mobile vehicle tips

Expanding your mobile business

Maintaining your vehicle

and much more!
Power options

Advertising

Pricing your services

Routing and scheduling

Customer relations

Managing your clientele

Grooming cats in a mobile unit by Danelle German, CFMG, CFCG